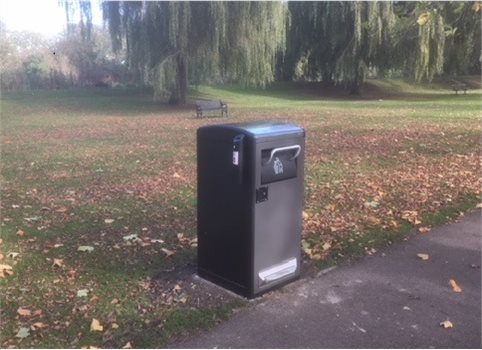 Dover District Council has installed four new 'smart bins' around the area of Sandwich Quay.
The new larger capacity bins are solar powered and have special compactors to enable them to take even more rubbish.  They have built-in sensors that monitor how full the bins are and send messages back to the Council's contractors before they need emptying.
This follows the success of six new smart bins installed by DDC on Deal Seafront in 2018, working with Southern Water, as part of the Beauty of the Beach campaign.
Cllr Nicholas Kenton, DDC Cabinet Member for Regulatory Services said: "Sandwich is a key local tourism destination, and with the completion of the flood defences and the improved quayside in Sandwich, the town is becoming increasingly popular with visitors. These bins will help us to manage litter in the area even more effectively, and ensure the area continues to look great and keeps litter-free for the future."
Posted on 01 November 2019