Norman Tailyour House Set to Reopen Following £2.5m Housing Investment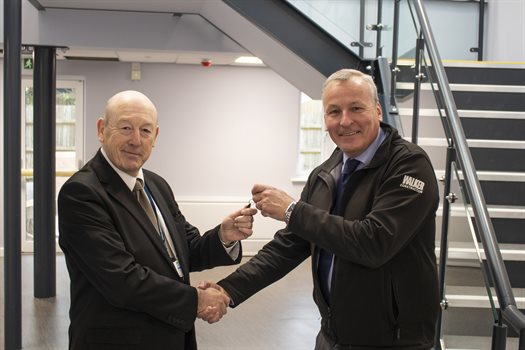 A major £2.5m redevelopment has been completed at Norman Tailyour House in central Deal – and the official handover of the 18 fully renovated self-contained sheltered residential Council flats to Dover District Council has taken place today.
The renovated Council-owned building in Hope Road, Deal, includes 16 one-bedroom flats and 2 two-bedroom flats in a supported housing environment.  The work has been completed by Kent-based contractors Walker Construction (UK) Ltd.
The flats have been designed to meet modern standards with facilities appropriate to the needs of older and disabled people. Works include a major refurbishment of the building, with a new roof and new windows and doors, and internal works to all flats including new kitchens and bathrooms. The redevelopment includes a new communal area, a new guest room, and a new charging and storage area for mobility scooters.
A range of key environmental improvements includes:
Insulation upgraded to latest building regulations specifications
LED lighting in communal areas
Improved double glazing and renewed doors with higher thermal efficiency
Water conservation measures for toilets and showers.
The property is ready for tenants to start moving in. A number of flats are being allocated to previous tenants, who have been living in alternative accommodation provided by DDC while works took place, and remaining vacancies are being made available to local people on the housing register who need sheltered housing places.
Norman Tailyour House was named after General Sir Norman Tailyour, who served as Commandant General Royal Marines from 1965 to 1968.  In retirement, he was Captain of Deal Castle from 1972 to 1980.
Martin Watts, Southern Construction Director for Walker Construction said: "We were very pleased to have been chosen to deliver this quality redevelopment, and we are delighted to be able to hand over the renovated building to Dover District Council."
Mike Davis, DDC Director of Housing said: "We are delighted to take possession of Norman Tailyour House following this major renovation and are looking forward to seeing tenants move in over the coming weeks. This is an exciting part of our ongoing commitment to deliver a range of housing solutions for communities."
Posted on 21 November 2019